I have moved into full nesting mode to get ready for this little one to arrive in the upcoming weeks. Just over 5 weeks now until my due date... it's unbelievable, that it's getting so close.
Today I set up the bassinet in our room, probably my most cherished step each and every time when I'm in nesting mode. I love walking into our room and seeing that little bed all set up. The bassinet we have is one Jeremy scored at a garage sale two summers ago when we brought Gabrielle home. It is a small version of a normal pack 'n play, with the bassinet attachment for the top that has storage shelves underneath. It has been so useful for us these past two years. Jeremy got it for $10, can you believe that? It retails for $130 online... insanity! It was only missing the three bars that hook the bassinet attachment to the pack 'n play shell. I didn't order the replacement parts at the time we brought Gabi home, since she was already nine weeks old, but I checked into them a couple weeks ago, and it would only be $15 to buy all three replacement bars to make it work for us... I ordered them and got them in the mail last night - and you know this mama was chompin' at the bit to get it set up! I'm excited for Jeremy to see it all set up in our room when he gets home today.
Every baby, no matter if it's your first or your seventh, is an amazing gift to be celebrated!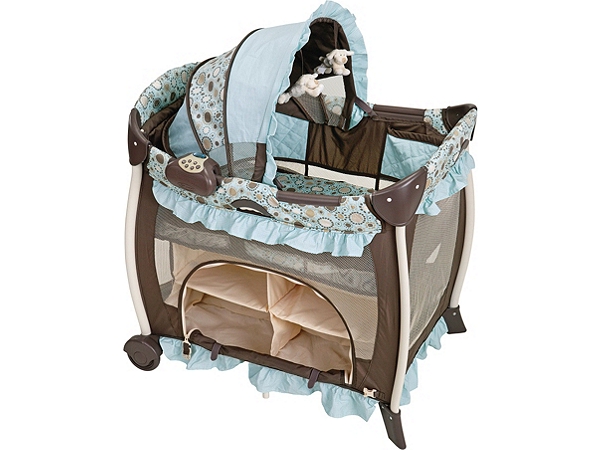 Here's a picture of our lovely little bed for the baby. Tonight I think I'll stock the shelves underneath. That comes in so handy since she'll be in our room the first few months and has no other place for her things in our room.
It's amazing that I've been nesting at all... I wasn't quite sure when that would happen. I'm not exactly moving around like a chipper chicken these days. I have been in some pretty good amounts of pain these past couple months, but thankfully, I've had bursts of energy for short spurts the last couple days!
I've washed the newborn clothes and blankets, bought newborn diapers (and have a great stash of newborn cloth diapers for when I feel ready to start them up), bought all of the necessities for nursing, and will probably get the bag packed to take to the birth center in the next few days just for fun.
Jeremy and I have been given the opportunity to fly to a wedding next week and meet our two new baby nieces along the way! That's part of the reason I feel the need to get things ready early - we'll be gone for six whole days, just the two of us! It's a big deal to us since it'll be our first trip alone as a couple in thirteen years since our honeymoon. I'll be checked out by my midwife the day before we fly (it's a short 3.5 hour flight) to make sure nothing is brewing this early, then off we go! I'm really praying we get the okay, we are SO looking forward to this time together. When we get home, I'll be considered full-term at 37 weeks just four days later, and can deliver out of hospital at the birth center anytime.
I've never gone early, other than 5 days early with the first three - but each and every time it feels like baby is coming weeks before that magical due date number due to the pain and amount of contractions (that have become painful) I have in the weeks leading up to baby's birth... but it just doesn't happen! So I'm not counting on it.
But this time, I'm praying she stays put until I'm 37 weeks and back from our trip! I don't ever think I've hoped for that before.
The other projects on my before baby to-do list are:
sew
swaddle blanket project
that had I planned on starting last week
sew burp cloths
pack mine and baby's bag
buy a few more last minute necessities (tiny socks, a few more onesies, Miracle Blankets)
wash carseat cover and have that handy to grab and take
finish baby quilt (completely optional, but it'd be fun to be done with it)
Well, that's all from nesting central for now... it is so exciting to see the green leaves finally appearing around here. That has been the benchmark I set all winter explaining to the kids when the baby would be here... "When the grass is green, the leaves are grown, and school is out - baby sister will soon arrive!"
Now we're down to just seven more school days, we see hints of green in our grass, and tiny leaves are exploding!